A Free Active Directory® Browser by LDAPSoft
AD Browser is a free Active Directory® browser by LDAPSoft. It is simple and easy to use tool designed to provide a read only access to the active directory. With AD Browser you can search for entries, view all available attributes and run SQL-LDAP Statments. AD browser provides both remote and local access to the Active Directory. The browser can be installed on the local machines or Domain Controller (DC). The browser is designed and developed with high level of security standards at our location in Morton Grove, IL, United States so that you can install this worry free on any or multiple DC's. The browser provides only a read-only interface so if you need to modify attributes and values you need our advanced tools like
LDAP Admin Tool Standard
and
Professional
Editions.
Main Feature of AD Browser:
1. Simple SSL: Connect to Active directory with SSL. AD Browser has made the SSL communication simple for the users. If the Certificate is not in the key store it will prompt the user (just like any web browser) to either accept or reject the certificate. If the user accepts the certificate the connection will be made otherwise the connection is discarded.
2. Simple, Advanced and SQL Search: AD Browser provides a powerful text and visual search tools The quick search bar makes it possible to do common searches, for example, Employee email address, employee name and so on, without having to access the menu bar or enter a complete LDAP-format search request.
3. Access multiple directories.. The AD browser support all v2 & v3 ldap directories.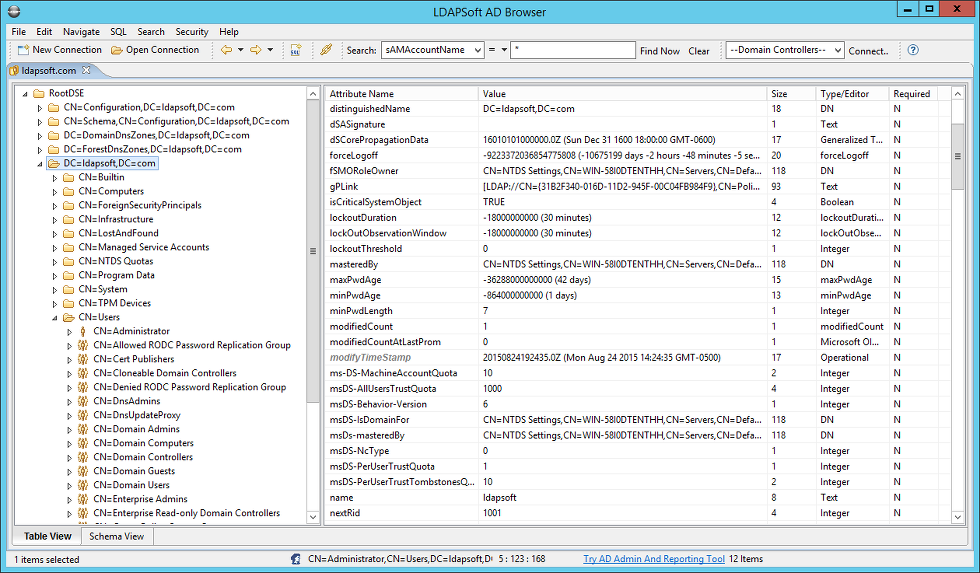 AD browser is only available on

Windows Platform. You can download the free Active Directory browser using the following download link.

Installation Instructions (

Windows Only):
Just download the file and click to open once the download is completed. Follow the instructions on the screen.
Q& A:
What is the difference between free LDAPSoft AD Browser and free LDAPSoft LDAP Browser.
A. The only difference between the two free product is Ad browser will automatically detect the active directory if you are connected to a domain and will prompt for the connection.